1. Oh Hae Young Again
Personal Ratings: 8.5/10
How much it deserves: 8.5/10
Being the minority that did not manage to fall madly in love with Oh Hae Young (the drama and the character), I could understand why others love it,
it was fast-paced, straight forward, romantic and funny.
I understood Oh Hae Young and her actions, but despite that said, she annoyed me quite badly that i ended up siding the pretty oh hae yong instead. Oh Hae Young is widely love by viewers because she is a special character, she was not exactly lovable BUT she was real,. Honestly, i wanted to drop the show when i stop loving it at around the halfway mark BUT i love the side characters- Ye Ji Won and Kim Ji Suk especially.
2. W
Personal Ratings: 8/10
How much it deserves: 9/10
Again, I did not manage to love this drama as much as the general public... Initially, I loved it-
it was fresh, quick-paced, cute and addictive BUT
as the story goes on, it became a mess. The writer out smarted me and surprised me with it's story but the second half of the show lost me. Honestly, if the writer manage to keep up it's quality that it managed to produced in the first quarter of the show, this show could be a 10/10 in terms of overall quality.
3. Uncontrollably Fond
Personal Ratings: 9.5/10
How much it deserves: 8.5/10
Here comes a drama that failed in terms of ratings, attention and critically BUT i loved it. Believe it or not, i was not a lover of the writer's previous well loved drama (Innocent Man) BUT gosh, i loved this. I can totally understand why it failed critically because the story was filled with holes and suzy was not an excellent actress but i loved the vibe of the story and was sucked into their world. Suzy is gorgeous no doubt but when playing such a complicated (and not exactly lovable character) like No Eul, she was lacking. (I honestly think she is good but not good enough for such a role but hopefully she does improve as i like seeing her on screen) The character that caught my attention the most is Choi Ji Tae aka Long Leg Daddy played by Lim Ju Hwan, i loved that character more than the leading character which was not exactly a positive thing but he is definitely the reason why i loved this show. Would not recommend this show to everyone but if the first 3 episodes were good enough for you, then stay, it is worth that 20 hours.
4. Beautiful Mind
Personal Ratings: 9.5/10
How much it deserves: 9.5/10
Brilliantly written, it could be much better if KBS did not cut the show off due to low ratings but... I enjoyed it.
5. Shopping King Louis
Personal Ratings: 9.5/10
How much it deserves: 8.5/10
The story is definitely widely seen and ordinary but the attractive thing about this drama? It's cute, fluffy and innocent. If i have to describe it with food, it will be cotton candy. If you are looking for a light hearted and cute drama, this is for you.
6. On The Way To The Airport
Personal Ratings: 8.5/10
How much it deserves: 9/10
The directing is a huge reason why the show is so pretty and why i stayed on this whole journey. This is actually my first drama that surrounds around an affair and i am not supportive of that idea BUT i love a good story that surrounds around that. The story writing was good (and then this week my wife is having a affair came along and this show went down for me) but overall worth a watch.
7. Jealousy Incarnate
Personal Ratings: 9/10
How much it deserves: 9/10
To be really honest i loved the first half of the show but the second half got me rolling my eyes and my love for it dropped tremendously. I do appreciate most of the characters (Na Ri does kind of annoyed me as the story goes along) but i loved the side characters and most of the story so still a great watch for me.
8. Moonlight Drawn By The Clouds
Personal Ratings: 9.5/10
How much it deserves: 9.5/10
How cute are those little darlings? Love all the characters, the story was great but it was missing a little magic for me to give it a 10/10 (honestly, it is just how i feel) Hands down one of my favorite sageuk.
9. Run Jang Mi
Personal Ratings: 6.5/10
How much it deserves: 6/10
Typical family drama that drags too long but Jang Mi is way too annoying.
10. Cheongdamdong Scandal
Personal Ratings: 8.5/10
How much it deserves: 8.5/10
One of the best/better family dramas around. A heroine that is smarter and knows how to stand up for herself is a big YES. Well written and worth the watch if you are looking for a show to spend 50 hours with.
11. Weightlifting Fairy Kim Bok Joo
Personal Ratings: 9.5/10
How much it deserves: 9.5/10
GOSH this show was way over my expectations, I never thought this show will be this fantastic. Honestly LOVED it and would recommend this to everyone
12. Scarlet Heart Ryeo
Personal Ratings: 10/10
How much it deserves: 9/10
I loved it.... I know this drama was not well received critically nor did well in ratings but I AM ONE OF THOSE WHO PASSIONATELY LOVED THIS DRAMA. I understand why it wasn't well received, the first 1/2 was quite poorly edited, i was bored but was still interested in the story. IU's acting is pretty good in my opinion.... i know she is not up to the standard set by most actress in sageuk but i think she is natural and emotional. I never watched the original version but I OFFICIALLY DECLARE THIS AS MY FAVORITE SAGEUK. (not for everyone though, judging by the number of people that disliked this)
13. Goblin
Personal Ratings: 10/10
How much it deserves: 9.5/10
Kim Eun Sook is famous for being an overrated writer and everyone complains about how she write cheesy/corny storyline but with big names thus do well in ratings BUT i have to say, she have a power of making common stories ADDICTIVE and magical. My favourite Kim Eun Sook drama was Secret Garden, i am well aware that it is actually poorly written BUT GOBLIN WAS GREAT, IT DESERVED THE LOVE I GAVE TO IT. The characters are all likeable (the main female lead character is slightly annoying in the beginning... ok i mean VERY ANNOYING, i almost wanted to drop the drama at ep 3 because of her HOWEVER... i started loving her soon). I admire Kim Eun Sook for writing such a magical and moving story AND THE DIRECTING IS SO GORGEOUS. I have to complain of several plot and editing flaws though but overall, i love it enough to close an eye on those. I loved this drama and it officially made it to my top 3 favourite dramas of all time.
14. Legend Of The Blue Sea
Personal Ratings: 8.5/10
How much it deserves: 8.5/10
Honestly, this drama was good but the reason why it did not do as well is due to the high expectations. My Love From The Star was high successful and the writer decided to use the same formula with the same female lead to mix up a new successful drama. The drama was a success since it maintained ratings on it's high teens and managed to remain first throughout it's run but it was lacking the buzz which highly successful dramas got. I honestly enjoyed and like it but did not manage to be overly emotionally nor physically attached to it BUT the last 3 episodes were great for me and i like the side characters thus worth the watch.
15. 1% Of Something
Personal Ratings: 9.5/10
How much it deserves: 9.5/10
It is obvious how cheap the whole production is BUT the directing and writing was good. It was smooth, fast, direct, not frustrating unlike many dramas so that deserves some credit. Do not expect much from this except a light fun and quick ride which is definitely worth putting aside a couple of hours for.
16. Missing 9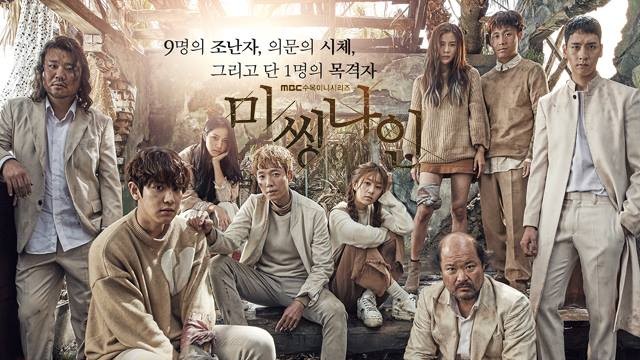 Personal Ratings: 8/10
How much it deserves: 8.5/10
The writing was smart and the directing style is fresh with a unique storyline. I honestly can't pinpoint where exactly made me only like the show instead of loving it, would not recommend to everyone but was an alright watch.
17. Return Of Hwang Geum Bok
Personal Ratings: 6/10
How much it deserves: 4/10
This story goes one round and back at the same spot and another round. I herby declare this in my top 3 LEAST favourite drama list. I have to admit that my father that do not watch korean dramas did end up watching most of this drama too so... i have to give them some credit for that. OVERALL... DO NOT WATCH THIS DO NOT WASTE YOUR TIME.
18. This Week My Wife Is Having An Affair
Personal Ratings: 9.5/10
How much it deserves: 10/10
I watched two dramas surrounding the theme of an affair but hands down, this drama was the winner. I appreciate how the drama tells the story from the point of view from the husband and explores several relationships (with great humour added on). A MUST WATCH. Have to mention that this is actually my first JTBC drama (would not be the last, that is for sure)